The Karolinska University Hospital and the Karolinska Institute strengthen collaboration with Charité
The Karolinska University Hospital, Karolinska Institute, and Charité University Hospital in Berlin have signed a Memorandum of Understanding (MoU) with the aim of strengthening collaboration in healthcare, research, and education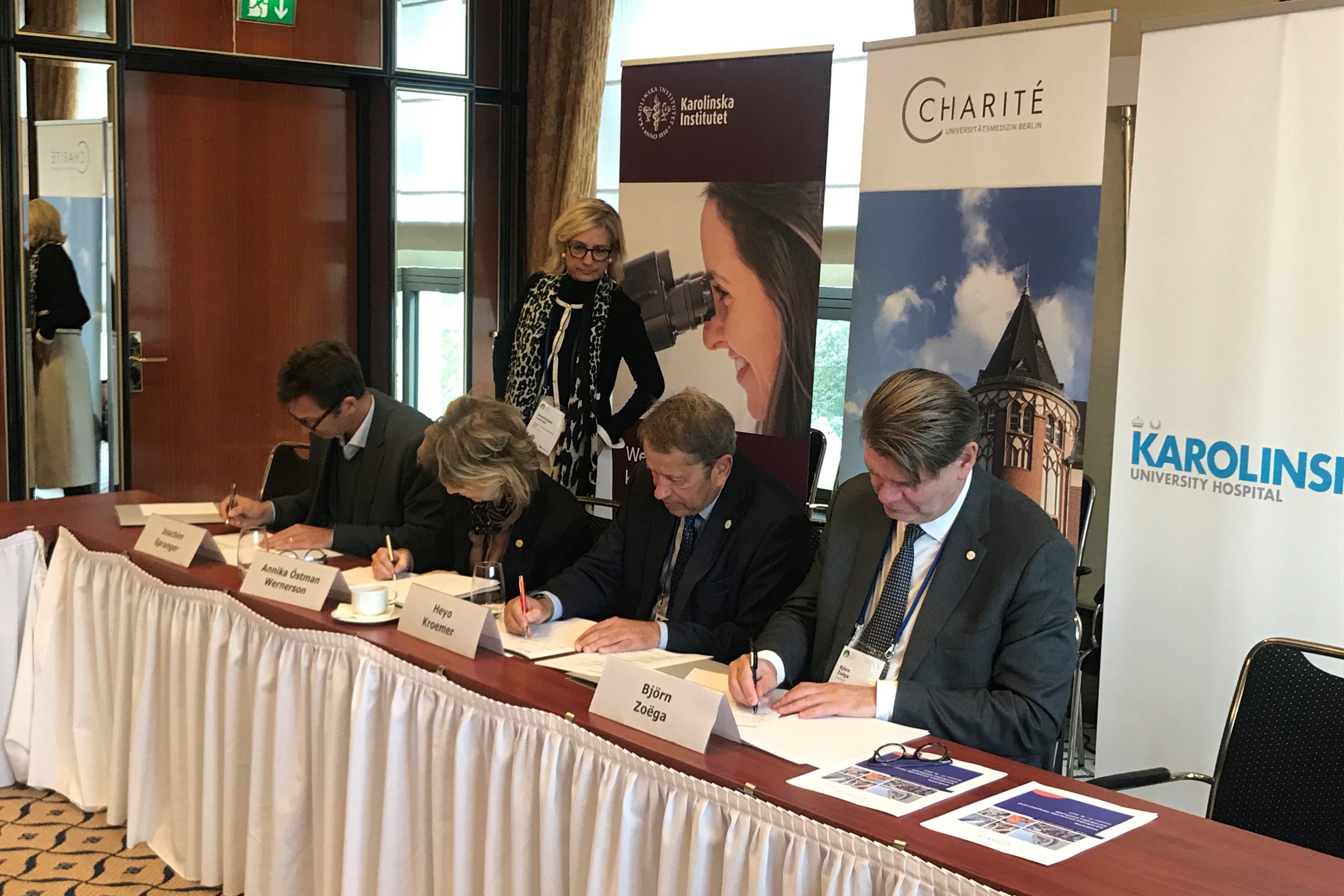 Karolinska University Hospital already has a close collaboration with Charité, which is one of Europe's leading hospitals, within the framework of EUHA, the European University Hospitals Alliance. With the MoU signed in Berlin on October 17th, this collaboration is further deepened. Among the areas in which both university hospitals cooperate are nursing, precision medicine, and the organization of future healthcare, such as home care.
– Karolinska University Hospital and Charité have a long tradition of collaboration. Now, we are deepening our collaboration with Karolinska Institute as well. For me, it is important that this collaboration now leads to real progress, says Heyo Kroemer, CEO of Charité - Universitätsmedizin Berlin.
– By formalizing our collaboration with Charité, we establish a continuous interaction with colleagues in Berlin. The expressed willingness from Charité, Karolinska University Hospital, and Karolinska Institutet to combine our expertise and resources for the common goal of improving people's health strengthens all parties, says Annika Östman Wernerson, President of Karolinska Institutet.
– The collaboration within EUHA has made it possible to influence the healthcare system throughout Europe, thereby improving healthcare for patients and driving the transformation that the healthcare sector needs to undergo. Now, we are creating conditions to continue this work at an accelerated pace, says Björn Zoëga, CEO of Karolinska University Hospital.
___________________________________________
Text: Nneka Magnusson Amu.
Similar news
Karolinska University Hospital's director Björn Zoëga and Karolinska Institutet's president Annika Östman Wernerson have signed an agreement to establish a joint center for advanced cell, gene and tissue therapies.
The International IHF Awards are annually presented by the International Hospital Federation (IHF), and Karolinska University Hospital is one of the finalists in 2023.