The biggest reconstructive surgery meeting in Europe has been held for the first time at Karolinska Institutet
The 33rd edition of the European Association of Plastic Surgeons (EURAPS) meeting focused on reconstructive medicine and its clinical applications.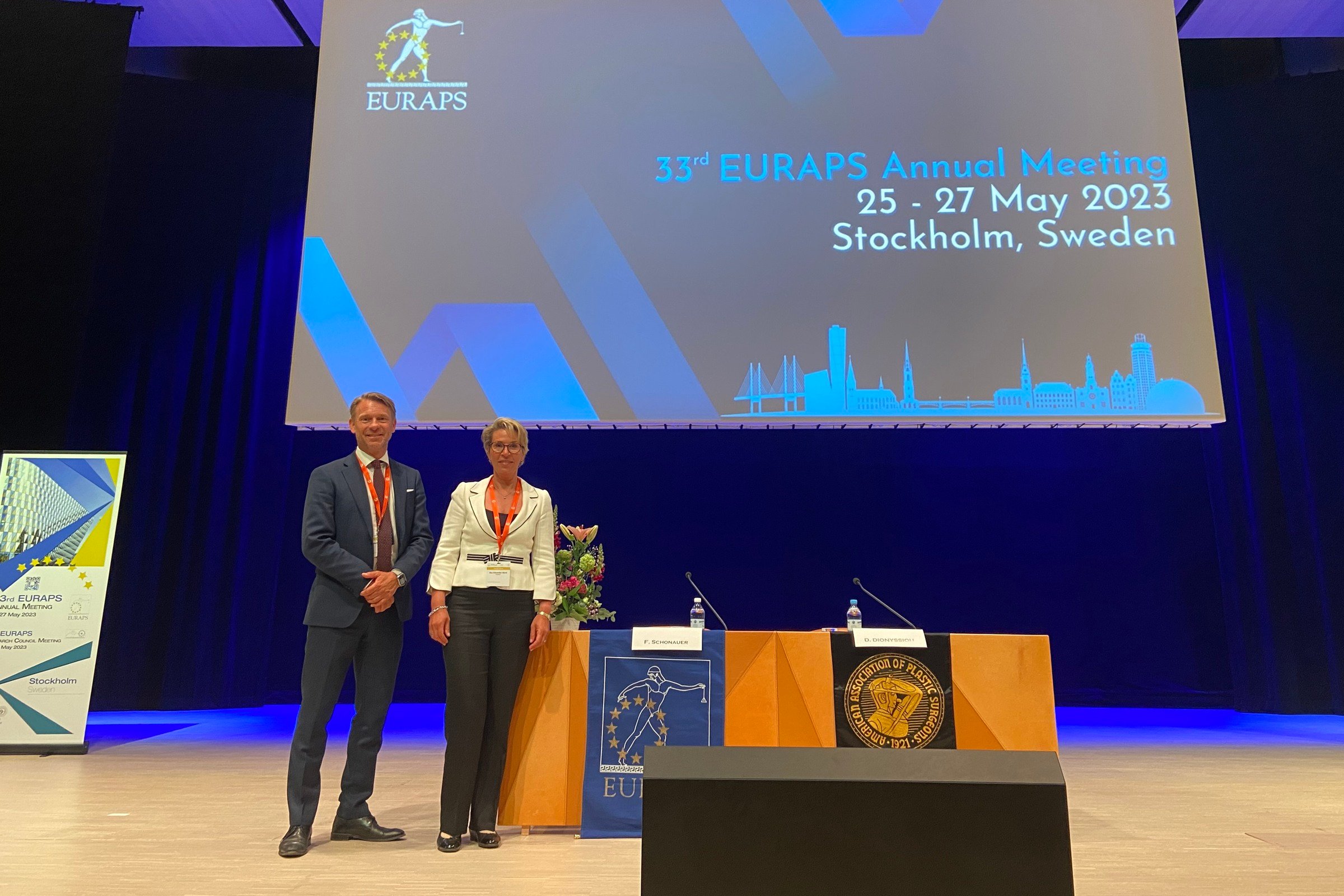 At the end of May, the European Association of Plastic Surgeons (EURAPS) Annual meeting was held at Karolinska Institutet for the first time in its 33rd edition. After winning the bid in 2019 for hosting it in Stockholm the meeting had to be postponed one year due to the pandemic. It is an event for sharing scientific and clinical knowledge in the field of plastic surgery, particularly focused on reconstructive plastic surgery.
The 33rd EURAPS Annual meeting was preceded by the 11th EURAPS Research Council (ERC) meeting at Nobel Forum, taking the lead for the first one and a half days, focusing on the preclinical aspects and the applicability of regenerative research, whereas the remaining two and a half days The EURAPS meeting was more clinically oriented. Both meetings hold a high scientific standard that promotes excellence in plastic surgery across Europe and worldwide, stimulates research and facilitates collaboration.
The meeting included talks about research and its clinical applications in regenerative surgery such as fat regenerative medicine or composite tissue allotransplantation. Microsurgery was emphasized as crucial aspect. There were general talks about plastic surgery, while also exploring the future potential of regenerative medicine, such as growing cells to create new organs for transplantation.
A highly prestigious academic meeting
Since the first EURAPS meeting started in 1990 it has grown over the years. This year, there has been a record of 450 participants, mainly European but also from USA, Asia and Australia. Unlike other conferences, there are no parallel sessions. Only 20-25% of the submitted abstracts are accepted, not because they are not good enough, but because the competition is very high.
"This meeting has a high academic level, it's a very attractive organization to be part of, so we are honored to be the hosts. You get to meet a lot of outstanding plastic surgeons and discuss with them. You get to collaborate with your fellow colleagues and inspire the younger ones. It's done in a very familiar way", said Dr. Åsa Edsander-Nord, MD, PhD, specialist in reconstructive plastic surgery, and host of the EURAPS meeting and Dr. Martin Halle, MD, associate professor, specialist in reconstructive plastic surgery, and host of the ERC meeting.
This year the ERC meeting also featured the lecture of the Professor Elof Eriksson, a distinguished professor emeritus and former holder of the Joseph Murray professorship at Harvard Medical School. Professor Murray was the first plastic surgeon who performed a kidney transplant and eventually got the Nobel prize in 1990.
Two main innovative areas: Fat regenerative medicine and composite tissue allotransplantation
Nowadays physicians have made a big effort on trying to understand how fat transplants can be used to reconstruct wounds or tissue defects after burns and cancer such as breast or a head and neck cancer. These types of transplants also have wound healing capacity due to the mesenchymal stem cells contained in this type of tissue.
Another promising area in research is the composite tissue allotransplantation that has been recently introduced as a potential clinical treatment for complex reconstructive procedures including traumatic injuries, cancer ablative surgeries, or extensive tissue loss secondary to burns. Composite tissue allotransplantation is a transplant consisting of a graft of multiple tissues, such as muscle, bone, nerve, vasculature, and skin comprising a functional unit for reconstructive purposes that's taken from a donor and transplanted into a recipient. Thus, composite tissue structure is more immunogenic than solid organ transplants.
Plastic surgery is always aiming to develop new techniques to reconstruct tissue defects and thus enabling other specialties to treat big complex tumors or trauma. "Taking tissue from one part of the body and moving it to the part we want to reconstruct without harming is one of our aims. We are refining the reconstructions to minimize donor site morbidity. We are always trying to do something smarter, better, and less harmful for the patient", says Dr. Edsander-Nord, and Dr. Halle adds "Karolinska University Hospital is just now trying out a robot able to suture vessels less than 1mm".
Hosting a congress like EURAPS annual meeting strengthens the bonds and collaborations between institutions of high academic standing, promotes and advances the research and its clinical application.
Similar news
Karolinska University Hospital's director Björn Zoëga and Karolinska Institutet's president Annika Östman Wernerson have signed an agreement to establish a joint center for advanced cell, gene and tissue therapies.
The International IHF Awards are annually presented by the International Hospital Federation (IHF), and Karolinska University Hospital is one of the finalists in 2023.